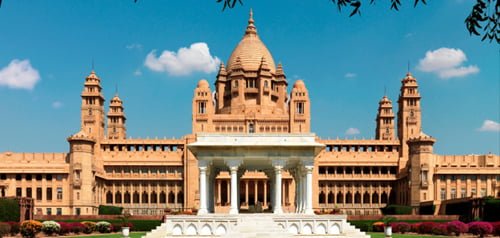 Umaid Bhawan is the finest surviving case of workmanship decor. It is the only palace to house paintings from the Ramayana, done by a Polish artist. Umaid Bhawan also happens to be the first to utilize electricity, air conditioning and lifts and the greatest for its size and measurements . However, it clearly wasn't enough for the architect- H.V. Lancaster, who planned it and wanted it to match the standards of the Viceregal Lodge (now Rashtrapati Bhawan ). Back then, Viceregal Lodge was under construction under the guidance of Sir Edward Lutyens in the country's new capital at New Delhi.
For beginners, Umaid Bhawan is a formal building that is flawlessly symmetrical and has 347 rooms. Each of these rooms depict the Rajput architecture in some ways, with its several hidden passages and balconies used as courtyards around which various wings of the palace are designed. Constructed during the peak of the art-deco period, there are a few elaborations and adornments on the outer walls, for example, the eagle carved from sandstone. Every original fitting has been preserved and carefully maintained.
Even though most of its accessories is being used, others have been put in an exhibition hall inside the premises. This is where the guests can discover for themselves, the fine china utilized by the royal family, follow the historical backdrop of the clocks and phones that were once put to use in various rooms, thereby discovering a slight touch of your own past in a nostalgic journey through a time, not so long ago. At last, you can end the adventure in your very own room, in the royal residence.