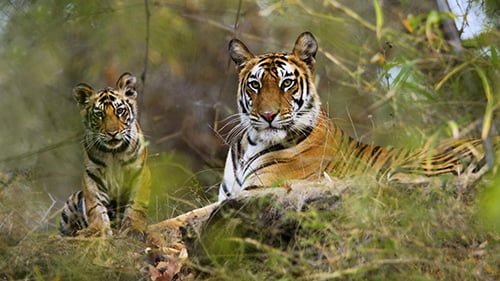 Rajasthan is acclaimed for its forests and valleys as much as it is for its mighty desert. The state is divided into two sections by the Aravalli Range. Towards the west we have 'Maroodesh'- the extremely popular desert land, and towards the east, we have "the land where the yellow canola blooms"- fertile, thickly wooded, covered with greenery, dotted with lakes and through which the lovely river of Chambal flows. Here, one can also witness some magnificent jungles inhabiting a wide range of tigers, wild bears, leopards and various types of deer such as nilgai, chinkara, sambar, cheetal, black-buck etc. The stunning lakes surrounded by various kinds of water birds and ducks can leave anyone in awe with the beauty of Rajasthan.
A low-lying marshland, Keoladeo Ghana is one of the most astonishing wonderlands of nature. Every year, it gets flooded during the monsoon season and transforms into a vast lake. An enormous range of water-fowls get together around these natural spring mattresses, for the breeding season.
Monsoon in Rajasthan comes as a relief that blossoms the withered desert after the severe heat of summers. The entire region comes to life with greenery all around, peacocks dancing under every tree, cuckoo birds singing and the local women of village dressed in swinging skirts and singing to the passing birds.