GENERAL INFORMATION
| | | |
| --- | --- | --- |
| Area | | 64.75 Sq km. |
| Altitude | | 431 Meters |
| Best season | | October – February |
| Languages | | English, Hindi, Rajasthani |
| Climate | Max | Min |
| Summer | 40°c | 25.8°c |
| Winter | 22°c | 08.3°c |
| Clothing | Summer | Winter |
| | Light tropical | Woollen |
Universally renowned as the Pink City, Jaipur is the famous Capital of the desert state of Rajasthan. It has beautifully constructed forts, palaces and domes. The meaning of "Jaipur" is the city of victory, and it was built in 1727 and is 262 km away from Delhi, by road. The age-old city is encircled by a strong wall which despite of being ancient is still strong enough to protect the city. Rajasthan having Jaipur as its capital city has heard the grandeur of Royal swords clashing, thunder of running horses and has witnessed bloodsheds for the fights of independence. Jaipur was developed by Sawai Jai Singh, in the year 1727 and is the first planned city of its time. Jaipur has a well-planned architecture designed by a well-known Bengali architect, Vidyadhar Bhattacharya who designed the city in a grid system. The city has straight and wide avenues along with streets and lanes having several shops arranged in sectors called chokris on either side of the main market. The city's creation is admirable up to an universal level.
Gigantic and old landmarks in which one can inhale the aroma of history, agreeable lodgings once the glad royal residences of lords, various parks, patio nurseries and trips of close-by spots of interest, make Jaipur a vacationer's heaven.
TOURIST PLACES
THE CITY PALACE: (Timings: 09:30 to 16:45 hrs.)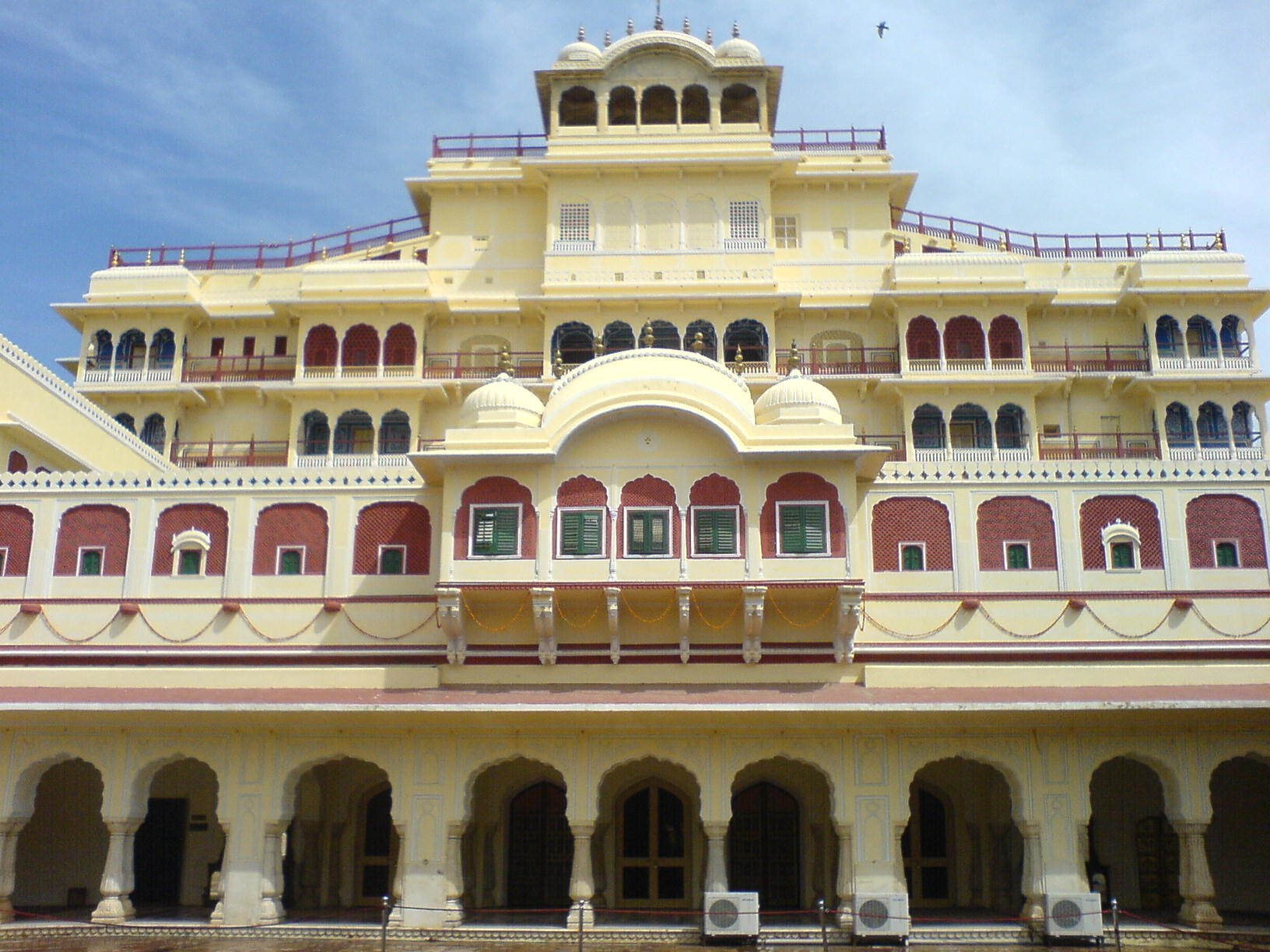 The City Palace is a verifiable milestone. Studded with botanical themes in gold and shaded stones the cut curves are bolstered by dark white marble sections. The passageway is protected by elephants cut in marble, retainers who have served two eras of rulers are close by to serve as aides. The Palace inside houses a select gathering of different sorts of Rajasthan Dresses and clothing. The exhibition hall contains an interesting arsenal of Rajput weapons; swords of all shapes and sizes with pursued handles, some of them decorated, enameled, encrusted with gems and encased in intense and superb casings. The Art Gallery inside of the historical center has a fine accumulation of cosmic works in Arabic, Latin, Sanskrit and Persian, procured by Sawai Jai Singh for his investigation of planets and their developments.
JANTAR MANTAR: (Timing: 0900 to 1700 hrs.)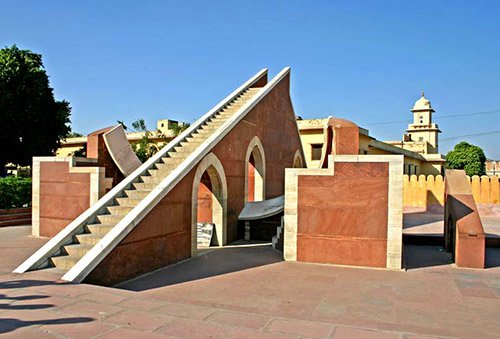 Of Sawai Jai Singh's five remarkable observatories, Jantar Mantar is the largest and best preserved. Jantar Mantar is a development of stone and marble whose setting and shapes are absolutely and logically composed, and which are one of the excellent points of reference of medieval Indian space science. Unique in their isolation are the two Ram Yantras used for gauging altitudes.
HAWA MAHAL: (Timing: 1000 to 1700 hrs.)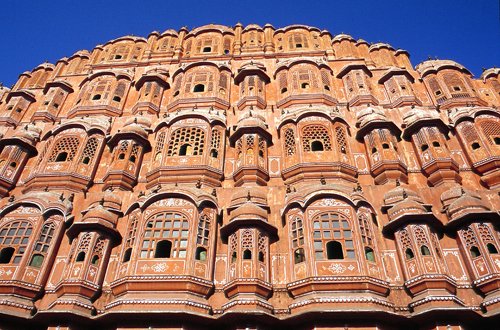 A remarkable landmark of Rajasthan is the Palace of Winds or Hawa Mahal. The most strikingly designed monument of Jaipur  was built on the orders of poet-king, Sawai Pratap Singh. As seen from the Sireh Deorhi Bazar, it is a multi-crept five-story high rear of the complex. It was considered to give sufficient vantage position behind fragile stone-cut jali screens to the royal residence ladies for viewing the illustrious parades going through the bazaar underneath.
GALTAJI
Amidst the low hill guarding the city, beyond the gardens, lies the old pilgrim centre of Galtaji. Pavilions, temples and holy kunds (nature springs and reservoirs) dot the serene landscape. Visible from all parts of the city is the small temple of the Sun God, created by Diwan Kriparam on top of the highest peak.
AMER FORT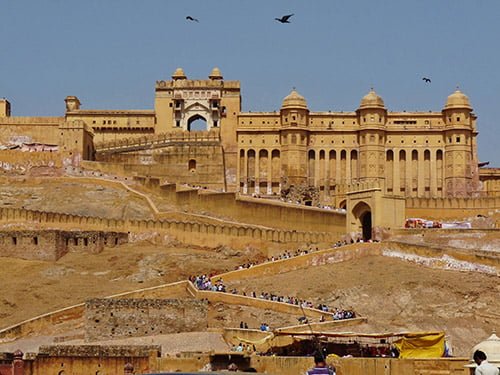 Once a prosperous settlement of craftsmen, nobles and ordinary citizens, the city of Amer is now mostly in ruins. The largat Shiromani temple is beautifully carved and painted and contains the idol of Lord Krishna, popularly linked with the legendary saint poetess, Mira Bai, the well-made step-well Panna Mina-Ki-Baoli and the old temple of Narsinghji still bear witness to its past glory.
HOW TO GET THERE
By Air – There are flights connecting to Delhi, Kota, Jodhpur, Udaipur, Aurangabad, Bombay and Ahmedabad.
By Rail – An excellent connection from Delhi is Shatabdi and the pink city express which provide a convenient link of vestibule, chair seating rail service. Other connections to Jaipur are from Bikaner, Jodhpur, Udaipur Ahmedabad, Secunderabad, Agra, Lucknow, Bombay and Calcutta.
By Road – Jaipur is connected by road with the major cities of India. Some important distances are
| | | | | | |
| --- | --- | --- | --- | --- | --- |
| DISTANCE | Delhi | Agra | Jodhpur | Udaipur | Jaisalmer |
| JAIPUR | 262 km | 230 km | 332 km | 374 km | 560 Km |