GENERAL INFORMATION
| | | |
| --- | --- | --- |
| Area | | 22 Sq km. |
| Altitude | | 250 Meters |
| Best season | | October-February |
| Languages | | English, Hindi, Rajasthani |
| Climate | Max | Min |
| Summer | 45°c | 37°c |
| Winter | 31.7°c | 21.9°c |
| Clothing | Summer | Winter |
| | Light tropical | Light Woollen |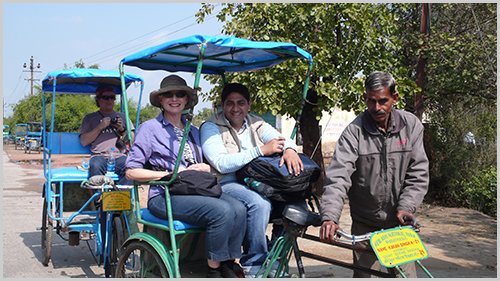 Bharatpur is located about 55 km away from Agra via road, on the Jaipur highway. This little town is an eastern gateway to Rajasthan. The Bharatpur palace is home to a large number of exhibits dating back to the early 15th century. However, Bharatpur is primarily known for its proximity to the Keoladeo ghana National Park (commonly known as Bharatpur Bird Sanctuary), which has the largest concentration and variety of birdlife across Asia. This 29 sq. km sanctuary is also the breeding ground for the Siberian Cranes.
TOURIST PLACES
KEOLADEO GHANA NATIONAL PARK, BHARATPUR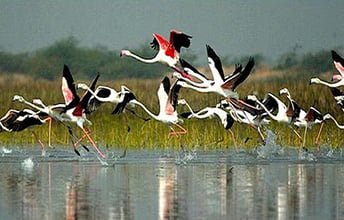 Every year, thousands of resident and migratory aquatic birds are attracted to the magnificent aquatic plant and animal life of Bharatpur in the shallow, freshwater marsh. It is well-recognized for its recorded history of 10 decades of duck shoots. An enormous range of 374 species belonging to 56 families, is housed within the 29 sq. km area of the National Park.
HOW TO GET THERE
By Air- Agra 56 km is the nearest airport.
By Rail- Regular rail services connect Bharatpur with several cities.
By Road- Bharatpur is connected by road with the major cities of India. Some important distances are
| | | | | | |
| --- | --- | --- | --- | --- | --- |
| DISTANCE | Delhi | Jaipur | Agra | Fathepur Sikri | Sariska |
| BHARATPUR | 220 km | 181 km | 60 km | 24 km | 116 km |