GENERAL INFORMATION
| | | |
| --- | --- | --- |
| Area | | 6.5 Sq km. |
| Altitude | | 40 Meters |
| Best season | | September – March |
| Languages | | English, Hindi, Rajasthani |
| Climate | Max | Min |
| Summer | 43.8°c | 23.8°c |
| Winter | 28.3°c | 11.6°c |
| Clothing | Summer | Winter |
| | Light tropical | Woollen |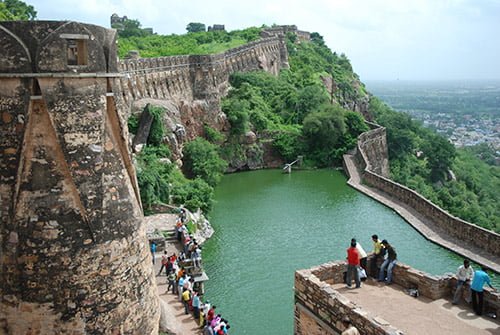 The most sentimental name in Rajasthan is Chittor. Chittor is more than a demolished fortress; it is an image. It is symbolic of everyone who is daring, genuine and respectable in the Rajput convention. Chittor was the old Capital of Mewar State which was ruled by Sisodia Rajputs. The Maharajas of Mewar follow their heritage through Shri Rama, lord of Ayodhya to the sun god and fit in with the suryavansh line.
Chittor was sacked three times and on every event, the ritual of Jauhar was performed. The first was in 1303 when Allauddin Khilji Sultan of Delhi pined for the acclaimed Rajput excellence Rani Padmini whose face he had seen reflecting in a mirror.
TOURIST PLACES
THE FORT
It is watched by seven doors, three of which are committed to the legends who kicked the bucket in the resistance of this stronghold. There are various other spots of interest which include Banvir's wall, the treasury and a Jain sanctuary.
PALACE OF RANA KUMBHA
It is claimed that in its underground vaults, Queen Padmini performed Jauhar amid Allauddin Khilji assault and it was here that Mira bai relinquished imperial life and transformed into a lover of master Krishna.
SAT-BEES DEWARA
A gathering of twenty-seven Jain sanctuaries bunched together on the ascent of a little slope.
SRINAGAR CHAURI
A bounteously cut Jain sanctuary.
MIRABAI'S TEMPLE
The temple has been built in an Indo-Aryan style on a raised plinth. It has a tapered rooftop and an inward sanctum. An open corridor around the sanctum has four little structures. It is said that Princess Mira Bai used to lovingly worship Lord Krishna in every corner of this place.
SHIVA TEMPLE
A thirteenth century Shiva sanctuary, south of the Pillar of fame.
KALKA MATA TEMPLE
It was initially an eighth-century Sun Temple which protects a cutting of the Sun God over its passage.
PALACE OF PATTA
This is the castle of one of the noblest saints of Chittor who courageously fought and sacrificed his life amid the Mughal triumph of the fort, along with his mother and wife.
HOW TO GET THERE
By Air – Udaipur 112 km is the nearest airport.
By Rail – By train, Chittorgarh is connected to Ajmer, Jaipur, Alwar, Delhi, Bundi, Kota, Udaipur and Ahmedabad among other cities.
By Road – Chittorgarh is connected by road with the major cities of India. Some important distances are
| | | | | | | |
| --- | --- | --- | --- | --- | --- | --- |
| DISTANCE | Delhi | Jaipur | Udaipur | Ajmer | Bundi | Pushkar |
| CHITTORGARH | 595 km | 322 km | 112 km | 190 km | 112 km | 215 km |