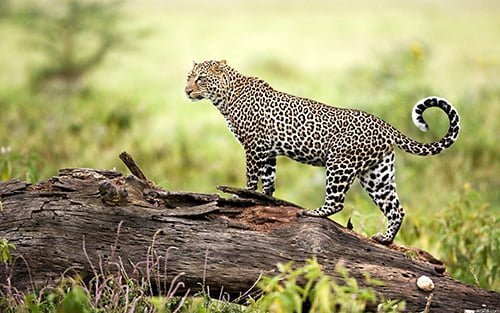 Kumbalgarh National Park is recent addition to the list of National Parks in Rajasthan as it was converted into a National Park from the status of a wildlife Sanctuary in order to conserve highly endangered species of animals in the area. The National Park is names after Historic and mighty fort of Kumbalgarh in the area. Situated in Rajsamand district in Rajasthan, the Park is spread over 555 sq. km. The area was once a hunting ground for the Royal Family. The Park has a unique and diverse topography as on one part is surrounded by Aravali mountain ranges over altitude of 3700 feet. River Banas flows through the Sanctuary and main source of water for the Park and its inhabitants. The visitors are also amazed by the dense forest here as usually, Rajasthan State is considered to be a desert State.
The National Park is unique in many ways and is habitat of Wolf which is not easily found in other areas. During summer season, when water is not easily available, a number of wolves roam around water bodies which is a delight to watch. Other than wolf, The Park is also home to a large variety of rare species of animals s and over 200 species of birds. The monsoon is the season when the Sanctuary is at its back as the rains bring beautiful flora, and the autumn brings out brunette colour. Another attraction of the Sanctuary is Garasia and Bhil tribes who live in the forest in their traditional huts. The activities in the National Park are horseback safari and trekking besides Jeep Safari.
Mammals:
Wolf, Leopards, Hyena, Sloth Bear, Jackal, Jungle Cat, Sambhar, Deer, nilgai, Antelope, Chinkara
Birds:
Grey Jungle Fowl, Red Spur Owls, Peacock, Doves, Parakeets, Golden Oriole, Grey Pigeons, Bulbul, Dove and White Breasted Kingfisher
Timings: All days of the week 7:00 AM – 6:00 PM

How to Reach

By Air: Udaipur is the nearest airport, only 105 km away from Kumbalgarh.
By Rail: Kumbalgarh does not have a railway station. The nearest station is Falna Railway Station which is 85 Km away.
How to reach Kumbhalgarh by Road :
| Distance from Kumbhalgarh | Total Kilometer |
| --- | --- |
| Ranakpur | 35 Km |
| Jodhpur | 205 Km |
| Udaipur | 105 Km |
| Mount Abu | 175 Km |
| Ajmer | 215 Km |
| Jaipur | 350 Km |