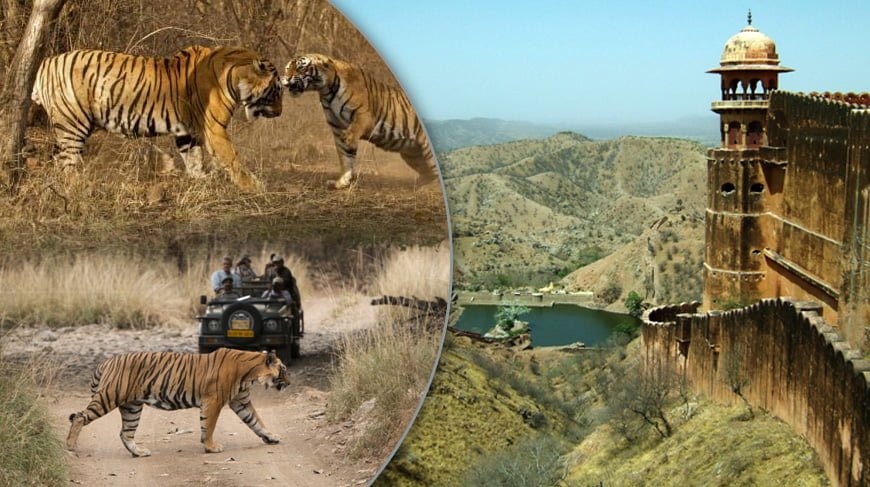 WILD RAJASTHAN TOUR
08 NIGHTS / 09 DAYS
DELHI – AGRA – BHARATPUR – SARISKA – RANTHAMBHORE – JAIPUR – DELHI
Rajasthan, the largest Indian state, is an abode of wildlife and colourful Indian culture and on this tour, you will encounter both. Topologically divided by Aravali, the world's oldest mountain range, the state has a hilly and rugged terrain in the south eastern region and a sub-tropical desert in the north west. Owing to this, the state is extremely rich in wildlife and biodiversity and is home to endangered species of plants and animals and a resting place for migratory birds. Bharatpur bird sanctuary, also called Keoladeo National Park has over 230 species of resident birds including Peacocks, Golden Oriole and Grey Jungle Fowl. Sariska and Ranthambore national parks are tiger sanctuaries where you can go on jungle safaris to see the tigers in the wild. Apart from tigers, they also have Leopard, Hyenas, Jackals, Sambar, Chitel, Nilgai, Wild Boar and Langur. This Rajasthan package tour also covers Delhi, Jaipur and Agra which are cities rich in historical heritage with majestic forts, beautiful temples, delicious food and of course the renowned Taj Mahal.


DAY 01: DELHI

A warm welcome is ready for the guests at the Airport, upon their arrival at Delhi. They're then driven to their hotel. Later, an Old Delhi tour is offered during the afternoon hours. Old Delhi is well–acclaimed as a 17th century walled city, famous for its splendid gates, narrow alleys and the astonishing bazaar. After Old Delhi, a New Delhi visit is conducted which is in absolute contrast with everything observed at Old Delhi. New Delhi has a diligent atmosphere with wide tree–lined avenues, parks and fountains surrounding the imposing Government and State buildings. This is followed by an overnight stay at the hotel.

DAY 02: DELHI – AGRA (200 KM, 4/5 HOURS)

In the morning, depart for Agra, once Capital of Mughal Empire. After reaching Agra, we visit Sikandra, the tomb of great Akbar. This is made of red sandstone with fine inlay work of marble. After visit of Sikandra, check–in at the hotel. Later we continue tour of Agra visiting Agra Fort which had been the seat of power of the Mughal dynasty for many centuries. The huge awe–inspiring facades of the fort are a symbol of strength, power and resilience of the might empire. The view of Taj Mahal from the fort is also unforgettable. Now it is time to visit one of the Ancient Seven Wonders of the World, "Taj Mahal." It is a mausoleum built by Shah Jahan for his beloved Mumtaz Mahal. It took no less than 22 years to build this architectural wonder and was finally completed in the year 1653. The interiors of Taj Mahal are adorned with highest quality inlay work incorporating semi–precious stones. Taj Mahal is undoubtedly a treat to your eyes and spectacle to watch. After city tour of Agra, return to hotel for overnight stay.

DAY 03: AGRA – BHARATPUR (58 KM, 1 ½ HOURS)

We leave for Bharatpur in the morning. One of the most popular national parks in Rajasthan, Keoladeo Ghana National Park is popularly known as Bharatpur Bird Sanctuary. It is one of the world's greatest heronries spread over a sprawling area of 29 sq km, out of which an approximate of 10 sq km is marshes and bogs. The major attraction of this sanctuary is Siberian cranes which are known to migrate from Siberia travelling long distance of 6500 km. The Cranes usually arrive during the month of December and stay until early March. The other birds to be found in this park include, several species of Cranes, Pelicans, Geese, Ducks, Eagles, Hawks, Shanks, Stints, Wagtails, Warblers, Wheatears, Flycatchers, Buntings, Larks and Pipits. Overnight stay.

DAY 04: BHARATPUR – SARISKA (160 KM, 3 HOURS)

We leave for Sariska. The Sariska Wildlife Sanctuary lies in the middle of Aravali range and it is covered with dry deciduous forests. It is home to Jackal, Leopard, Bengal Fox, Wild Dog, Hyena, Indian Hare, Jungle Cat, Tiger, Ratel, Northern Palm Squirrel and the Indian Grey Mongoose besides tiger. Afternoon you will have a chance to spot these animals and if you are lucky you can come face to face with a tiger. Overnight stay.

DAY 05: SARISKA – RANTHAMBHORE (175 KM, 4 HOURS)

In the morning leave for Ranthambore National Park which is well known for its Tigers.
The landscape of the park is very interesting as there is an ancient Banyan Trees, Dhok and Pipal trees and clusters of mango trees. The terrain here is made of massive rock formations, perennial lakes and streams. Arrive at Ranthambhore and check–in at the hotel.
Overnight stay.


DAY 06: RANTHAMBHORE

Ranthambore National Park is the biggest tiger reserve in Rajasthan. It offers a breath– taking experience to visitors as it is located on the banks of Chambal and Banās River. The National Park is spread across a humongous area of 392 sq km and is a home to a large variety of amphibians, reptiles, mammals and birds. The biggest attraction of this park is Royal Bengal tigers for which thousands of wild life enthusiasts come here. The other animals in the park include wild boar, sambar, jackal, cheetal deer, leopard, sloth bear and hyena and many others. Besides animals, there are forts and ancient temples inside the park. The mornings and evenings are dedicated for jungle safari in a jeep or a canter (open van) to get a change to encounter big cat besides enjoying flora and fauna of the park. Overnight stay.

DAY 07: RANTHAMBHORE– JAIPUR (175 KM, 4 HOURS)

Today, we leave for Jaipur which was founded by Maharaja Jai Singh in 1727. It is one of the first planned cities of India and is rich in culture and heritage. After arriving in Jaipur, check–in at the hotel and later we start our exploration of the majestic city with a visit to the City Palace, the former royal residence of the Maharaja of Jaipur. Even today, the royal family abides in a part of the palace that is cordoned off for the visitors. It is quite different from other Rajput palaces and forts as apart from the Rajput architecture you can also observe smithereens of Mughal architecture. Not far away from the city palace is Jantar Mantar which possesses various astronomical instruments that have impressed astronomers all over the world. Here you will see the largest sundial in the world and one of the best preserved observatories. Return to hotel for overnight stay.

DAY 08: JAIPUR

In the morning, we go for excursion to Amer Fort which is perched on a hill. The architecture of the fort is a unique blend of Rajput and Hindu style. Amer is the former citadel of Kachwahas of Amer who had ruled the city. It is a thrilling climb to the fort as its done sitting on an elephant's back. The Fort is known for cobblestoned pathways with enormous fortification. There are beautiful buildings inside the fort including Sheesh Mahal (palace of glass), Jai Mandir and Sukh Niwas. The afternoon has been kept free for you to explore the pink city bazaar for shopping or just to take a leisurely walk. Overnight stay.

DAY 09: JAIPUR – DELHI (260 KM, 5 HOURS)

In the morning after breakfast, departure for Delhi. Upon arrival in the city, you will have time to relax or explore Delhi city on your own and indulge in the last minute shopping. Later you will be dropped to the Airport to catch the flight to your next destination.