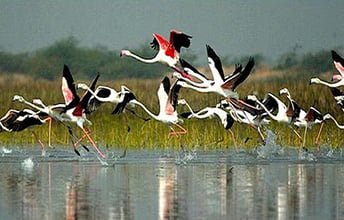 One of the most popular national parks in Rajasthan, Keoladeo Ghana National Park is located between two historical cities of Agra and Jaipur. It is also commonly known as Bharatpur Bird Sanctuary. It is one of the world's greatest heronries spread over a sprawling area of 29 sq km, out of which an approximate of 10 sq km is marshes and bogs.
Among the visitors and ornithologists, the Siberian crane is one of the most talked-about birds. Experts have revealed that Siberian cranes are known to migrate from the Ob river basin region (Aral Mountains, Siberia), travelling long distances of up to 6,500 km. Rigorous efforts are being made by the conservationists to save the Siberian crane species from extinction. Keoladeo Ghana Sanctuary, Bharatpur is the only place where the Siberian crane migrates, except for Feredunkenar in Iran. The Cranes usually arrive during the month of December and stay until early March. Contrary to its Indian counterpart, the Siberian crane feeds on an underground aquatic root, known as Cypress Rotten grass. The amusing fact about the Siberian crane species is that they generally feed on an omnivorous diet of vegetation, fish and some other small insects but during their stay in India, they tend to adopt a completely vegetarian diet.
The Bird Sanctuary can easily be reached from Delhi, Jaipur and Agra via rail and road.