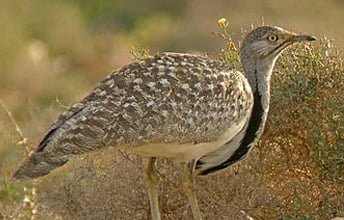 Desert National Park is known for unique landscape with rocks, dense Salt Lake bottoms and undulating sand dunes. It is a fine example demonstrating desert ecology. The Desert National Park is one of the largest parks in India. The park is a testimony to the fact that how life can survive in such tough terrain. The delicate ecosystem supports a very different kind of wildlife amidst biological biodiversity of Thar Desert. There is also fossil evidence which dates back to the Jurassic Period and demonstrates hot and humid climate characterized by thick forests.
Spread over a massive area of over 3000 sq. km., The Park is home to various exotic bird species and animals. The Desert National Park is famous for one of heaviest flying birds anywhere in the world, the Great India Bustard. In fact, this is one of the very few areas where this species can be found in good number. Being the habitat of Great Indian Bustard, birdwatchers from all corners of the world come to visit the Desert National Park. Besides, the Great Indian Bustard, there are other variety of bird species including chinkara, black buck, sand grouse, desert fox and cat, desert gerbil, fringe-toed agama eagles and blue bull which are not easily found elsewhere.
The National Park is one of few Parks which remain open throughout the year. The best time for bird watching in the park is between December and February.
Flora:
Being situated in desert, vegetation here is not much and only limited to patches of sewan grass, cacti and aak shrub. The other faund found in the Desert Park is Dhok Trees, Ronj, Palm Trees, Khair, Rohira, Khejri, Ber, etc.
Fauna:
Birds – Great Indian Bustard, Spotted, Eagles, Vultures, Peofowl Bee-Eaters, Shrikes, Larks, Demoiselle Crane, Macqueen's Bustard, Quails. Sandgrouse, Gray Partridges, Long-Legged, Honey Buzzards, chats, babblers, Harriers, kites
Mammals – Camel, Blackbuck, Desert Fox, Wolf, Desert Cat, Bengal Fox, Wolf, Nilgai, Blackbuck Antelope, Cervicapra Rajputana Chinkara. Gazeella Gazelle
Reptiles – Tail Lizard, Russell's viper, Saw Scaled Viper, Sandfish, Desert Monitor, Saw scaled viper, Krait, Gecko, Persian Gecko, Chameleons
By Air: Jaisalmer is the nearest airport and has flights from Delhi and Jaipur. Jodhpur which is about 300 km from National park is better connected to many Indian cities.
By Train: Jaisalmer is the nearest train station which is 40 km away. Jaisalmer is connected by train with Delhi, Jodhpur and few other places in Rajasthan.
By Road: Jaisalmer is well connected with many cities in Rajasthan.
DISTANCE FROM DESERT NATIONAL PARK:
JAISALMER 40 KM
JODHPUR 300 KM
JAIPUR 570 KM
BIKANER 340 KM
DELHI 780 KM
BARMER 170 KM
Best Time to visit: October to March
Timings: 10 am to 5 pm