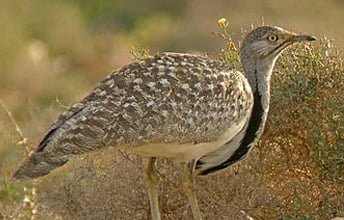 Desert National Park in located near Jaisalmer city in Thar desert. There is very diverse kind of wildlife in this park unlike other National Parks in India mainly due to its unique location. The park is spread over more than three thousand square km and one of the largest in India in terms of area.
The unique feature of the park it that about 20% of its area is covered by sand dune and it terrain make it ideal for many animal species like Blackbucks, Chinkara, Wolves, Desert Fox, Junlge Cat, Chinkara, etc.
Besides animals, the park is also home to various species of birds and a bird watcher's paradise. They can enjoy activities of many bird sncluding bee-eaters, partridges, sandgrouse, larks, demoiselle crane, honey buzzards, falcons and houbara. The main highlight of the park is Great Indian Bustard which is now rarely seen in any other part of India.