The Royal Rajasthan on Wheels is designed in a contemporary illustrious style to experience majestic extravagance and appreciate an illustrious feast onboard, where each minute is woven together into an everlasting and memorial experience to be lived and treasured until the last day. The enchantment of the mind blowing adventure to the place that is known for lords, massive forts, exotic palaces, sanctuary towns, diverse communities and varied landscapes begins from Delhi. Explore the bold ventures to the wilds of Ranthambore, visit to the enchanted destination of Udaipur, comprehend the fascinating tales of the majestic forts and palaces of Jaipur, witness the incredible workmanship and figure of the temple of Khajuraho, on to the other worldly encounters at Varanasi and visit the wonder of the world in the vibrant city of Agra.
Facilities
Saloons
The Train comprises of 14 passenger coaches. Out of the 14 coaches, 13 coaches have three Deluxe Saloons and the fourteenth coach has two Super Deluxe Saloons. Each luxurious cabin has a distinctive theme of flawless gems like Ruby, Pearl and Sapphire.
Super Deluxe Suites offers an open living with complete solace of royal suites. The stunning silk and velvet quilts and draperies take you to the royal era. The finely cut wooden furniture adds to your experience. These open suites are named after gems 'Emerald' and 'Diamond' where facilities include a luxurious bedding, upholstery, study table and chair to make your stay pleasant.
Every coach is named after the well-known spots of Rajasthan such as Hawa Mahal, Chandra Mahal, Surya Mahal, Sukh Mahal, Jal Mahal, Moti Mahal, Padmini Mahal, Phool Mahal, Jogi Mahal, Kishori Mahal, Kumbha Palace, Lalgarh Palace. The Super Deluxe Coach is known as the Taj Mahal. .
RESTAURANTS
A heavenly feast served with affection is the ideal beginning and end of the day. The two Restro-Lounges- Sheesh Mahal and Swarn Mahal, await you to savour the sumptuous royal feast. Enjoy mouth-watering luxuries from Rajasthani, Indian, Continental and Chinese cooking styles. Sheesh Mahal has been decorated with astonishing floor lamps and immensely valuable stone pelmets; the whole restro-parlor is made of wood and gem. The Swarn Mahal, has been arranged around a subject of gold and metal. Dinning at both the restro-parlors will add to your pleasure. Amidst your tasteful wonder, feast on your delightful meal with customized hand-made cutlery and especially designed crockery.
BAR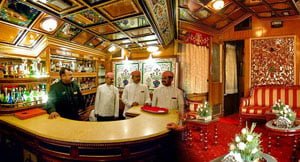 Enjoy your extravagant suppers with finest wines and a variety of global brands of alcohol on the two restro-lounges- Sheesh Mahal and Swarn Mahal on the Royal Train. The well stocked bar on the train serves choice of brands on Aperitif, Malt, Whisky, Scotch, Rum, Vodka, Cognac, Wines and Champagne.
SPA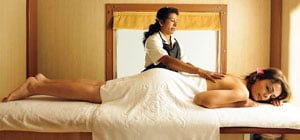 A pampering can't remain absent while on a holiday, particularly if the vacation is in India. Royal Rajasthan on Wheels offers you the finest spa facility on board. This lifestyle spa will provide you with immense relaxation and wellness arrangements with hair, skin and body. The highly equipped spa offers various kind of massages and aesthetic treatments in royal setting.
Other Facilities
The Royal train is Wi-Fi enabled.*
The Royal Train has the biggest windows compared to any other train running on tracks in India and have been made particularly for the passengers to enjoy the visual treat on this royal voyage.
The super deluxe cabins have an individual temperature control service too.
Channel music.
Enjoy indoor games and an assortment of books on the train.
Various national dailies and magazines are accessible on board.
Laundry facility is available on board for your convenience.
A safe is provided to store your valuable resources.
110/120 V attachments in Train.
Foreign exchange facility is also available on board.
Royal Rajasthan on Wheels is a no smoking train.
Tour Itinerary
DAY 01 : Delhi- Safdarjung Station

Sunday, Departure 16.30 hrs, Delhi

Welcome on board at Delhi with the stately welcome at the safdarjung station with customary aarti and tika with garlanding and some mocktails to rejuvenate yourselves. After check in, you would be escorted to your respective saloons. This will be a very different experience in the moving Palace which offers extravagance as well as convenience.

DAY 02 : Jodhpur

Monday, Arrive at 09.15 hrs. Breakfast on board | Departure 17.10 hrs

Jodhpur is the second biggest city in the state of Rajasthan. It is well-acclaimed for its eminent Meharangarh fort. Another expample of brilliant Rajput architecture is the Jaswant Thada, built in 1899. Return to train for Lunch and train leaves for Udaipur. Dinner and stay on board.

DAY 03 : Udaipur

Tuesday, Arrival 08.00 hrs Breakfast on board | Departure 14.30 hrs

The city of Udaipur is known as the Venice of India. It is a world-famous destination unto itself, stuffed with royalty, energy and passion. The city can be depicted as a crude Rajput imagining, with royal palaces, haveils, gardens & temples at each turn. Visit the lovely royal city palace. Lunch at the hotel followed by the evening tour to an astonishing crystal gallery.

DAY 03 : Chittaurgarh

Tuesday, Arrival 16.45 hrs | Departure 22.00 hrs

The story is an adventure of valor, persistence & penance. The mighty fort of Chittaurgarh is a fortune trove of history & offers the explorer an understanding into the life of the considerable Rajput rulers. The triumph tower or Vijay Stambh is one of the major tourist attractions. Gaumukh reservoir & the palace of ruler Padmini are imperative spots toward the south of the Rana Kumbha palace. The light & sound program is presented at the fort.
Supper on board/Hotel Panna with a cultural program.

DAY 04 : Sawai Madhopur

Wednesday, Arrival 05.30 AM Breakfast on board or Hotel Vinayak | Departure 11.00 hrs

Located in the eastern region of Rajasthan, Sawai Madhopur's distinctive strength today is the Ranthambore Fort & Ranthambore National Park. Visit the national park to get a look at the magnificent tigers meandering around in the open wild which enables you to travel back in the glorious history of Rajasthan. There is also a temple on the route to the Park, named Amareshwar Mohadeo temple. Lunch is provided on board and train departs for Jaipur.

DAY 04 : Jaipur

Wednesday, Arrival 13:15 hrs | Departure 22.15 hrs

Warm welcome by caparisoned elephants & sweet music of the melodious 'Shehnai'. Visit amazing 'Hawa Mahal' (the palace of winds). Later enjoy elephant ride at Amer Fort and shopping antique collection of art & other handicrafts. Lunch at a hotel/on board & visit the city palace of the maharaja of Jaipur which houses an exhibition hall of astounding hundreds of years- old antiquities & the observatory built by the founder of Jaipur- Maharaja Sawai Jai Singh-II, who himself was a celebrated cosmologist. Supper at a hotel with a cultural program.

DAY 05 : Khajuraho

Thursday, Arrival 11.00 hrs Breakfast on board | Departure 18.30 hrs

The ninth to twelfth-century temples of Khajuraho is the confirmations of the architectural expertise amid the era of the Chandela dynasty. Located in Madhya Pradesh, India- Khajuraho overflows with energy, desire, eroticism, love and varied emotions of innovative art depicted in sculptures. Paintings of the temples were built in the north Indian style of architecture. However, just 20 of them have survived today but these are enough to give world a glimpse of magnificent art prevailing in that era. Lunch at arestaurant in a hotel. Transfer to train for dinner and overnight stay on board.

DAY 06 : Varanasi (Banaras)

Friday, Arrival 06.00 AM | Departure 18.00 PM

Varanasi is the oldest city in the world. It is more than 3000 years old and is famous as the city of temples. One can easily find temples at every few paces there. Jyotirlinga Visvanatha temple, rebuilt in 1776, is dedicated to the Lord Shiva. It is believed that the sacred Jnana Vapi well was dug by the Hindu Lord Shiva. The well is also known as the 'well of wisdom' and it is visited by hundreds of devotees expecting blessings from Lord Shiva. Another popular pilgrimage spot in Varanasi are the Ganga Ghats which are known for their spiritual importance and for being rich centers of music and spiritual arts. The city is believed to be one of the oldest establishments in the country and is a symbol of philosophy, mythology, culture, mysticism and so much more. It is also a home for many sacred personalities such as, Mahavira, Patanjali, Shankaracharya, Kabir, Ramanuja, Gautam Buddha and Tulsi Das. Also, Varanasi also well-known for its exquisite cuisine.
Other popular sightseeing destinations in the city are, Temples and all the Ghats. Also, Maha Aarti is an important thing to experience.

DAY 07 : Agra, Taj Mahal

Saturday, Arrival 05.00 hrs Breakfast on board | Departure 23.00 hrs

One can reach Agra through an early morning train. Agra gets its name from epic stories in Indian culture however, it is popular all the world because of the importance which was given to it by the Mughal rulers. It had been the capital city for many years when the Mughals were ruling India. The first and foremost place to visit in this city is one of the seven wonders of the world, the great Taj Mahal. It was built in the memory of Mumtaz, the beloved wife of Mughal ruler Shah Jahan which makes it a symbol of love and affection. The Taj Mahal is a work piece which took around 22 years and had more than 20,000 workers working on it to make it one of its kind. It is believed that after completion of Taj Mahal, Shah Jahan ordered to cut hands of all the workers involved in making of the monument so that nobody can ever construct something similar again. The architecture of the grand monument is indeed an eye candy and was designed by a Persian architect, Ustad Ah-mad Lahauri. Its finest features include, the carvings on the walls and the screens, extraordinarily beautiful domes and its beautiful colour. After this, Agra Fort should be your next priority which is right on the banks of Yamuna river and the city's most beautiful sunsets can be witnessed there.

After lunch at a local restaurant in Agra, you will be transferred to Royal Rajasthan on wheels where dinner will be served and overnight stay on board.

DAY 08

Sunday, Arrival 07.00 hrs Breakfast on board. Check out time 07.45 hrs

Tour end at Delhi.
Departure Dates & Rates
2016
| | | | | | |
| --- | --- | --- | --- | --- | --- |
| Month | Dates | Cabin | Single Occupancy | Double Occupancy | Super Delux Cabin |
| October | 2,9,16,23,30 | Month | US$ 900 Rs. 54000 per night | US$ 675 Rs 40500 per night | US$ 1800 Rs 108000 per night |
| November | 6,13,20,27 | Month | US$ 900 Rs. 54000 per night | US$ 675 Rs 40500 per night | US$ 1800 Rs 108000 per night |
| December | 4,11,18,25 | Month | US$ 900 Rs. 54000 per night | US$ 675 Rs 40500 per night | US$ 1800 Rs 108000 per night |
2017
| | | | | | |
| --- | --- | --- | --- | --- | --- |
| Month | Dates | Cabin | Single Occupancy | Double Occupancy | Triple Occupancy |
| January | 1,8,15,22,29 | Month | US$ 900 Rs. 54000 per night | US$ 675 Rs 40500 per night | US$ 1800 Rs 108000 per night |
| February | 5,12,19,26 | Month | US$ 900 Rs. 54000 per night | US$ 675 Rs 40500 per night | US$ 1800 Rs 108000 per night |
| March | 5,12,19,26 | Month | US$ 900 Rs. 54000 per night | US$ 675 Rs 40500 per night | US$ 1800 Rs 108000 per night |
2019
Contact for More Information PH : +91-11-47674030
NOTE :
10% extra surcharge during Christmas and New Year departures.
GST will be extra as applicable.
50% discount for the children between 05-12 years of age
90% discount for the children below 05 years.
The tariff is inclusive of cost of travel, accommodation, all meals, sightseeing tours, entrance fee (excluding video camera fee) for monuments & palaces and entertainment.
Tariff does not include liquor, laundry and other items of personal nature.
Total journey is for 7 Nights- but an option to book for minimum 5 nights New Delhi/Jodhpur Part journey & PAY ACCORDINGLY
The above Tariff is subject to change without notice.
Booking Policy:
20% of ticket value at the time of confirming the booking.
Remaining 80% of ticket value 45 days prior to departure date.
For USD bookings: The payable amount in INR should be credited in our account as per the rate of exchange
(ROE) of the previous day of the date (www.rbi.org.in) of transferring the amount by the agent.
Cancellation Policy:
10% of ticket value 90 days or more prior to departure date.
20% of ticket value between 89 to 30 days prior to departure date.
100% of ticket value 29 days prior to departure date.
No show/ En route termination of tour/amendment:
No Show – In case of No Show / Non-arrival of the guest, no refund or adjustment in future travel will be possible. The whole amount shall be treated as forfeited.
En route termination of tour – In case of termination of tour by the guest, for any reasons, no refund or adjustment for future travel will be possible. The amount for unused portion of the tour shall be treated as forfeited.