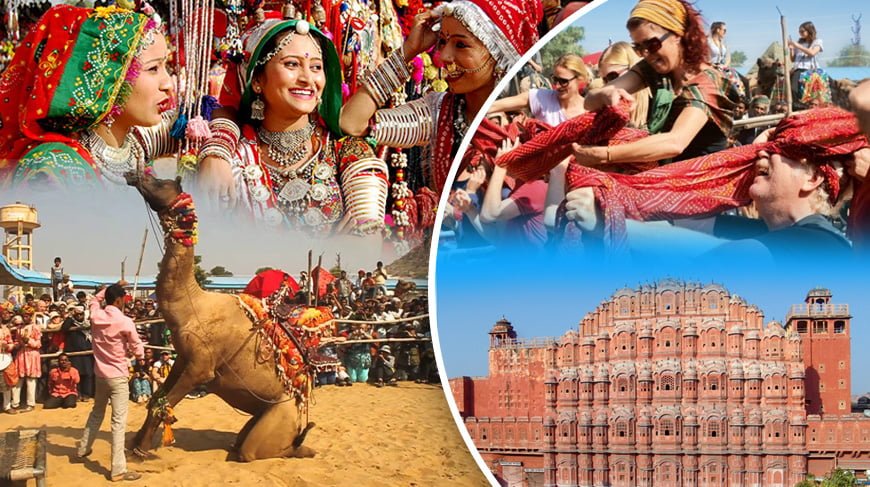 >
>
PUSHKAR FAIR SPECIAL TOUR
PUSHKAR FAIR SPECIAL TOUR
14 NIGHTS / 15 DAYS
DELHI – AGRA – FATEHPUR SIKRI – ABHANERI – JAIPUR – AJMER – PUSHKAR – CHITTAURGARH – UDAIPUR – RANAKPUR – JODHPUR – JAISALMER – BIKANER – MANDAWA – DELHI
Pushkar fair is the largest annual cattle fair in the world where livestock such as camels, goats and cows are traded among cattle traders who come from remotest parts of Rajasthan. The fair attracts tourists in large numbers who come here to buy indigenous ornaments, beautiful handicrafts and to watch tribal people, clad in traditional colourful attire, engage in cattle trading. One can also enjoy activities like camel races, camel fashion show and hot air balloon rides. Apart from the Pushkar fair, the 15 days Rajasthan package tour also takes you to Taj Mahal in Agra, Amer fort in Jaipur, city palace in Udaipur and majestic forts in Jodhpur, Jaisalmer and Bikaner. The beautiful frescoes on the walls of Havelis in Mandawa are also beautiful sights that are not to be missed.


DAY 01: DELHI

Arrival at Delhi airport. You will be welcomed at the IGI airport by our representative and transferred to your hotel in a private chauffeur driven car/coach. Quickly fulfill the formalities of arrival and check–in at the hotel (at 1200 hours) and start your exploration of India with a city tour of Old Delhi.Our first pitstop is Jama Masjid, built in 1650, it is one of the largest mosques in Asia. Enjoy rickshaw ride in the narrow lanes and alleys of the ancient bazaar of ChandniChowk. Visit the majestic Red Fort, a huge complex built of red sandstone, the capital of Mughal Empire in India for two centuries. Lets not call it a day yet as we continue our drive to Raj Ghat and pay homage to Mahatama Gandhi, the father of our nation. This completes the visit to Old Delhi and begins our tour of New Delhi. On your way to QutubMinar, you drive past the 16th century Humayun's Tomb. QutubMinar is one of the tallest towers of the 12th century built in Persian architecture style. Before returning to hotel we take a bus tour of the India Gate, Parliament Buildings and President House and finally returns to hotel for overnight stay.

DAY 02: DELHI – AGRA (200 KM, 4/5 HOURS)

In the morning, depart for Agra, once Capital of Mughal Empire. After reaching Agra, we visit Sikandra, the tomb of great Akbar. This is made of red sandstone with fine inlay work of marble. After visit of Sikandra, check–in at the hotel. Later we continue tour of Agra visiting Agra Fort which had been the seat of power of the Mughal dynasty for many centuries. The huge awe–inspiring facades of the fort are a symbol of strength, power and resilience of the might empire. The view of Taj Mahal from the fort is also unforgettable. Now it is time to visit one of the Ancient Seven Wonders of the World, "Taj Mahal." It is a mausoleum built by Shah Jahan for his beloved Mumtaz Mahal. It took no less than 22 years to build this architectural wonder and was finally completed in the year 1653. The interiors of Taj Mahal are adorned with highest quality inlay work incorporating semi–precious stones. Taj Mahal is undoubtedly a treat to your eyes and spectacle to watch. After city tour of Agra, return to hotel for overnight stay.

DAY 03: AGRA – FATEHPUR SIKRI – ABHANER – JAIPUR (265 KM, 6 HOURS)

After breakfast, get ready to depart for Jaipur. Stop en–route and visit FatehpurSikri, the best preserved Mughal Palace city in India which was built by Akbar in 16th century. He used the best craftsmen in the country to build the city but unfortunately had to abandon it a few years later after the water system failed. Continue drive towards Jaipur and next stop is Abhaneri village where you will visit Chand Baori, an ancient hidden stepwell. The step wells are unique in this part of the world and were used for storage of water by rainwater harvesting. They also served as pools for ritual cleansing before entering a temple. After visit of Chand Baori, proceed to Jaipur and check–in at the hotel for overnight stay.

DAY 04: JAIPUR

In the morning, we go for excursion to Amer Fort which is perched on a hill. The architecture of the fort is a unique blend of Rajput and Hindu style. Amer is the former citadel of Kachwahas of Amer who had ruled the city. It is a thrilling climb to the fort as its done sitting on an elephant's back. The Fort is known for cobblestoned pathways with enormous fortification. There are beautiful buildings inside the fort including Sheesh Mahal (palace of glass), Jai Mandir and SukhNiwas.
Afternoon tour of majestic Jaipur city with a visit to the City Palace, the former royal residence of the Maharaja of Jaipur. Even today, the royal family abides in a part of the palace that is cordoned off for the visitors. It is quite different from other Rajput palaces and forts as apart from the Rajput architecture you can also observe smithereens of Mughal architecture. Not far away from the city palace is JantarMantarwhich possesses various astrological instruments that have impressed astronomers all over the world. Here you will see the largest sundial in the world and one of the best preserved observatories. Return to hotel for overnight stay.

DAY 05: JAIPUR – AJMER – PUSHKAR (150 KM, 3 HOURS)

In the morning, we leave for Pushkar to witness one of the most exciting camel fair there. En–route stop at Ajmer to visit 'Dagah–E–Sharif'which is one of the holiest pilgrim place for Muslims all over the world. After visit of Dargah, it will take a short drive to reach Pushkar. Arrival and check–in at Luxury camp or in a hotel. During Pushkar Fair or Pushkar Mela as called in local language offers one of India's most unique experiences for travellers as it attracts thousands of camels, horses and cattle, besides a big number of tourists. Villagers from all over Rajasthan come here to trade their camels and other animals. It is also time for thousands of Pilgrims to take a dip in the holy lake of Pushkar. Overnight stay.

DAY 06: PUSHKAR

Full day is dedicated for visit of the Fair. There are different events held on each day and depending on which day of the Fair you are there, you will enjoy these activities. The sound of bells making heart pleasing jingles, beautifully decked up camels with their owners sitting on their backs has become the most fascinating norm at this stunning cultural fiesta. Silver bells and bangles around camle's hoofs jingle when they walk past the golden sand dunes. One of the most interesting features of the Fair is a unique competition. Beautifully decked up camels parade while competing in a beauty contest and the best bedecked camel wins the prize. In another competition, a number of people are made to sit on the camel's back. The camel lopes across the sand amidst cheers and jeers from thousands of spectators and throws its riders off its back. The camel which accommodates maximum number of people on its back, wins the competition.
During the event, the area is divided into three parts for cultural programmes, cattle trading and putting up a temporary market, locally known as Haat which comprises of a number of temporary shops selling different types of wares, handicrafts, food items, kitchen grocery, jewellery items for cattle, ranging from saddles, saddle–straps, beads, strings and cowries, to items specifically exhibited for the human folks. Visitors can bargain for silver ornaments and bead necklaces from Nagaur, patchwork, printed textiles as well as the famous tie 'n' dye fabrics from Ajmer which are a major attraction. The fair is also famous for the various kind of body tattoos.

DAY 07: PUSHKAR

Today again you will have full day at disposal to enjoy the Fair. Overnight stay.

DAY 08: PUSHKAR – CHITTAURGARH – UDAIPUR (330 KM, 6 HOURS)

We leave Pushkar to go to Udaipur. But, before reaching there, we will stop at Chittaurgarh whichis India's most noteworthy medieval fort built in the seventh century. Situated on a great height, Chittaurgarh sprawls remarkably over the nearby towns. Chittaur fell twice in the sixteenth century, first to the strengths of Sultan of Gujrat and later to the Mughal Emperor Akbar. Surrendered by its rulers who later settled for another capital at Udaipur, resulted in the ruins of Chittaur's apartments and palaces. Little has survived the assaults of the armed forces and of time, but there still is enough to give a sneak peak into the history at what probably has been one of Rajputana's most prominent fortifications. Continue drive to Udaipur and after arrival check–in at the hotel.Udaipur is also known as Venice of the city and City of lakes. You can take a walking tour along Lake Pichola in the evening. Overnight stay.

DAY 09: UDAIPUR

We shall start our tour of Udaipur city in the morning with visit ofCity Palacewhich took three centuries to complete the construction incorporating brilliant ideas of architecture. The Palace is a big complex of joining buildings. The rooms feature typical Rajput architecture with decorated mirrors, glassware and magnificent frescoes. There is also a Museum which displays how Udaipur city was founded by Raja Uday Singh and later developed by other Maharajas in form of paintings. We shall next visitJagdish templewhich is adjacent to City and a steep staircase takes us there. The entrance of the temple is greeted by two elephants. The stone art work and intricate carving on the walls is remarkable. We shall now drive to Saheliyon Ki Bari Gardenswhich is the most beautiful garden in the city. It was built for princess and her forty eight maids who has come to Udaipur along with her as part of her dowry. The wonderful lay out of the garden is a treat to your eyes.In the afternoon we shall go for an excursion to Eklingi and Nagda. Eklingji is a very famous and sacred Hindu Temple. It was constructed in 9th century by Guhila dynasty of Mewar. The finalvisit of the day isNagda, which was founded by Nagaditya, the fourth Mewar King, in the 6th century. Nagda is famous for 10th century Sas–Bahu Temple to hotel for overnight stay.

DAY 10: UDAIPUR – RANKPUR – JODHPUR (280 KM, 6 HOURS)

In the morning, we shall leave for Jodhpur and en–route stop to visit Ranakpur.The Jain temples at Ranakpur are dedicated to Adinath, the first tirthankara of Jains. The temples are very sacred and must visit for followers of Jain religion. But it is not only religious significance but the temples are also known for intricate carving on stone. The most interesting feature is that there are no less than 1400 pillars in the temple and none of the pillars is similar to each other as these are all carved in a different pattern. The domes of the temple are also richly decorated. We now continue our drive to Jodhpur. The city is also known as gateway to Thar desert and the blue city as most of the houses in the old Jodhpur are painted in blue color. This crowded desert city flutters with beauty, warmth and romance. A visit to Jodhpur is a romantic journey into the past with forts, palaces, temples, culture, tradition, spices, fabric, color, and flourishing handicrafts. Arrive at Jodhpur and check–in at hotel for overnight stay.

DAY 11: JODHPUR – JAISALMER (310 KM, 6 HOURS)

Morning, we go for city tour of Jodhpur. The city is also known as the blue city as most of the houses are painted in blue. We first visit Mehrangarh Fort which stands a hundred feet above a cliff and dominates skyline of Jodhpur. It is made of red sand stone and looks invincible and impressive. The Palaces within the fort are known for intricate carvings and courtyards. There is a good collection of musical instruments, royal costumes, royal palanquins, and cannons. We also visit JaswantThada which is beautifully set against the hilly background and glistening lake. After visit of Jodhpur, we leave for Jaisalmer. Popularly known as the Golden city, Jaisalmer was founded by Jaisal Singh, a Rajput king. The golden city is scattered over the desert land of Rajasthan and is a combination of ancient and the medieval era architecture. Overnight stay.

DAY 12: JAISALMER

After breakfast, we explore golden city and start with our visit to Jaisalmer Fort which is one of the oldest forts in Rajasthan. The fort is made of yellow sandstone and it is a massive structure in the desert town. The architecture of fort is an amalgamation of Rajput and Islamic style. This is undoubtedly a breath–taking sight to watch as it appears to rise from the arid sands of Thar. The fort is actually still alive with people still abiding within its walls.The fort complex consists of a palace and numerous beautiful Jain temples. Nearby is Patwonki Haveli, one of the largest havelis in Rajasthan. It is a group of five small havelis with beautiful intricate carvings on the windows. Even today, you can sense the old world charm and royalty of these havelis. We will also visit Nathmalki Haveli which gives visitors a glimpse of Marwari community lifestyle. The carvings on the walls are a visual treat to the eyes. Later in the afternoon, get ready for an excursion to the sand dunes, few kilometre away from Jaisalmer City. Enjoy the sun set across the horizons of never ending sand dunes on the back of a camel in the desert. It is now time to return to the hotel for overnight stay.

DAY 13: JAISALMER – BIKANER (330 KM, 6 HOURS)

We leave for the eloquent desert city of Bikaner in the morning. It dwells on the ancient caravan routes that originated from Africa and West Asia. The city was founded by Rao Bikaji and renowned for sculptured temples and wonderful palaces in red and yellow sand stones. Arrive Bikaner and check–in at hotel.Afternoon, we go for city tour of Bikaner by first visiting Junagadh Fort which was constructed in 1556 AD by Raja Rai Singh. The major attraction lies in its arcades, Darbar halls, royal rooms, and Jarokhas or screen windows. The fort is surrounded by almost one kilometre long wall which has 37 bastions. If time permits, you can also visit Camel breeding farm or Karni Mata Temple at Deshnok, the Temple of rats. Overnight stay.

DAY 14: BIKANER – MANDAWA (200 KM, 4 HOURS)

We leave from Bikaner in the morning to reach Mandawa, founded in the mid 18th century, the town was established by rich Marwari merchants. This place has been referred to as the "open art gallery" because it is not only Mandawa but the entire Shekhawati region which is full of fascinating mansions known as havelis in local language which have beautiful intricate frescos painted walls. Afternoon is dedicated to appreciate few of these havelis. Overnight stay.

DAY 15: MANDAWA – DELHI (270 KM, 6 HOURS)

After breakfast, it is time to return to Delhi. You will have car/coach at your disposal with driver to explore Delhi on your own or last minute shopping before returning home. In time transfer to Delhi airport to catch your flight to next destination.