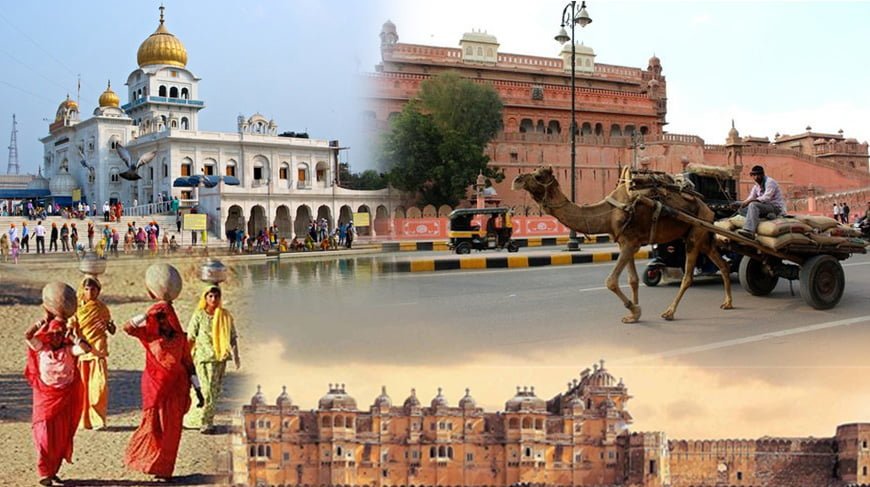 >
>
RAJASTHAN GUJARAT TRIBAL TOUR
RAJASTHAN GUJARAT TRIBAL TOUR
12 NIGHTS / 13 DAYS
DELHI – MANDAWA – BIKANER – JODHPUR – ROHET – SARDARGARH – KUMBALGARH – UDAIPUR – DUNGARPUR – DASADA – MODHERA – PATAN – AHMEDABAD – DELHI / MUMBAI
Rajasthan Gujarat Tribal Tour is our most exotic 13 days Rajasthan tour package that takes you close to the indigenous tribes living in the region, some reportedly existing from 4000 BC. During this tour, you will meet the tribal people in Rajasthan and Gujarat at their home, learn how to cook their food, acquaint yourself with their culture and even take a spectacular train ride between two Indian villages. In stark contrast to the tribal villages, you also visit cities like Bikaner, Udaipur, Ahmedabad and Delhi/Mumbai which are popular for rich heritage monuments including majestic forts, palaces and beautiful temples. The tour also includes a bewitching desert safari across the Little Rann of Kutch in Dasada. This guided Rajasthan package tour is a delight for anyone interested in history, culture and exotic experiences.


DAY 01: DELHI


Arrival at Delhi airport. You will be welcomed at the IGI airport by our representative and transferred to your hotel in a private chauffeur driven car/coach. Quickly fulfill the formalities of arrival and check–in at the hotel (at 1200 hours) and start your exploration of India with a city tour of Old Delhi.Our first pitstop is Jama Masjid, built in 1650, it is one of the largest mosques in Asia. Enjoy rickshaw ride in the narrow lanes and alleys of the ancient bazaar of Chandni Chowk. Visit the majestic Red Fort, a huge complex built of red sandstone, the capital of Mughal Empire in India for two centuries. Lets not call it a day yet as we continue our drive to Raj Ghat and pay homage to Mahatama Gandhi, the father of our nation. This completes the visit to Old Delhi and begins our tour of New Delhi. On your way to Qutub Minar, you drive past the 16th century Humayun's Tomb. Qutub Minar is one of the tallest towers of the 12th century built in Persian architecture style. Before returning to hotel we take a bus tour of the India Gate, Parliament Buildings and President House and finally returns to hotel for overnight stay.


DAY 02: DELHI – MANDAWA (270 KM, 6 HOURS)


We leave by car/coach in the morning to reach Mandawa, founded in 18th century, the town is dominated by medieval fort of Mandawa with a painted arched gateway adorned with painting of Lord Krishna and his cows. Arrival and check–in at hotel. This place has been referred to as the "open art gallery" because it is not only Mandawa but the entire Shekhawati region which is full of fascinating mansions known as havelis in local language which have beautiful intricate frescos painted walls. Afternoon city tour of Shekhawati area to visit Chokhani, Podar, Goenka, Ladia and Saraf havelis which are few of the wonderful examples of this architectural marvel. Mandawa is inhabited primarily by Jats who are known for their bravery. Overnight stay.

DAY 03: MANDAWA – BIKANER (200 KM, 4 HOURS)


We leave for the eloquent desert city of Bikaner in the morning. It dwells on the ancient caravan routes that originated from Africa and West Asia. The city was founded by Rao Bikaji and renowned for sculptured temples and wonderful palaces in red and yellow sand stones. Arrive Bikaner and check in at hotel. Afternoon, we go for city tour of Bikaner by first visiting Junagadh Fort which was constructed in 1556 AD by Raja Rai Singh. The major attraction lies in its arcades, Darbar halls, royal rooms, and Jarokhas or screen windows. The majority of the population in Bikaner is Hindus, but there are others belonging to different tribes and religions and are seen in ethnic wear, especially men wearing turbans on their head. Overnight stay.

DAY 04: BIKANER – JODHPUR – ROHET (310 KMS, 6 HOURS)


Morning drive to Jodhpur – Gateway to the Thar desert. Upon arrival visit Mehrangarh Fort which stands a hundred feet above a cliff and dominates skyline of Jodhpur. It is made of red sand stone and looks invincible and impressive. The Palaces within the fort are known for intricate carvings and courtyards. There is a good collection of musical instruments, royal costumes, royal palanquins, and cannons. We also visit Jaswant Thada which is beautifully set against the hilly background and glistening lake. Continue drive to Rohet. On arrival check in at the hotel. Overnight stay.

DAY 05: ROHET – SARDARGARH (210 KMS, 3 HOURS)

Morning we go for safari to Bishnoi villages. It is an entirely different experience. You will be welcomed into people's homes and have a chance to interact with them. Other than meeting hospitable people you will come across their ceremonies and get a chance to understand their way of life. They are known as 'ecologists of the world' as Bishnois have been protecting nature for many centuries and made survival of various species like the Black Buck Antelope which is very beautiful and rare species today. You will find these antelopes living near Bishnoi villages and never leave from there. You will also meet the Raikas (shepherds) with their colorful costumes, and the Paliwals (Brahmin farmers) and Meghwals who are weavers.
Then leave for Sardargarh. Upon arrival in Sardargarh, check in to Sardargarh heritage hotel, one of the magnificent forts of Rajasthan. It is set amidst the mountains and deep forests of Chuppun. You can see 250 year old fortress from far as it dominates the landscape there. Overnight stay.


DAY 06: SARDARGARH

After breakfast, get ready for a unique experience – a short train ride between two local villages. We will get a chance to travel with the villagers through captivating countryside. The journey takes you through a breath taking scenery of Ravli Sanctuary, with 100 feet high bridges, two long tunnels, waterfalls, thick jungle which seems to be going back in the history. You will appreciate the Herculean effort by the engineers in 1928 to make this railway line.The safety features are also amusing and once driver has to get down physically to change the track while going down.We shall en–route stop at Goram Ghat flag station where monkeys descend from neighboring jungle to feast on food items given by the villages. Finally you will get down at Phulad station and from there, you will be driven back to Sardargarh.
Now, for those who like to try Indian cooking, we shall visit local bazaar to buy your green grocery, chicken or other items that you like along with spices before going back to hotel. You need to follow a step by step instruction and prepare a traditional Rajasthani cuisine. The joy of Indian cooking is the aromas of different herbs and spices as they are added to enrich the flavor of the curry. The saying "As you sow so you reap" is slightly amended in our context to mean "As you cook, so you eat – "Bon Appetit". Overnight stay.

DAY 07: SARDARGARH – KUMBALGARH – UDAIPUR (180 KMS, 3 HOURS)

Morning leave for Udaipur but on the way, we will visit Kumbalgarh. Raised by Rana Kumbha, this secure fortress perches itself on top of 13 mountain tops in the Aravalis. Badal Mahal inside the fort is particularly unique for its perfect interiors and its impressive tallness, as compared to other structures. Few ancient Jain sanctuaries from the Mauryan period– can also be found within the fort. Continue drive to Udaipur which is one of the best examples of royal grandeur and also known as Venice of the East. It was built after the ruler of Chittorgarh retreated when almost invincible fort at Chittorgarh was captured by the Mughal emperor Akbar. Arrive in Udaipur and check in the hotel for overnight stay.

DAY 08: UDAIPUR

We shall start our tour of Udaipur city in the morning with visit of City Palace which took three centuries to complete the construction incorporating brilliant ideas of architecture. The Palace is a big complex of joining buildings. The rooms feature typical Rajput architecture with decorated mirrors, glassware and magnificent frescoes. There is also a Museum which displays how Udaipur city was founded by Raja Uday Singh and later developed by other Maharajas in form of paintings. We shall next visit Jagdish temple which is adjacent to City and a steep staircase takes us there. The entrance of the temple is greeted by two elephants. The stone art work and intricate carving on the walls is remarkable. We shall now drive to Saheliyon Ki Bari Gardens which is the most beautiful garden in the city. It was built for princess and her forty eight maids who has come to Udaipur along with her as part of her dowry. The wonderful lay out of the garden is a treat to your eyes.In the afternoon we shall go for an excursion to Eklingi and Nagda. Eklingji is a very famous and sacred Hindu Temple. It was constructed in 9th century by Guhila dynasty of Mewar. The final visit of the day is Nagda, which was founded by Nagaditya, the fourth Mewar King, in the 6th century. Nagda is famous for 10th century Sas–Bahu Temple to hotel for overnight stay.

DAY 09: UDAIPUR – DUNGARPUR (120 KMS, 3 HOURS)

Morning leave for Dungarpur which is stronghold of Bheels, a tribe are said to occupying Aravalli Range dating back to 4000 B.C. They are one of the oldest and most primitive tribes found in the world. We will visit some of these unspoiled Bheel hamlets in and around the town. We will witness and get a chance to photograph age–old tribal lifestyles and customs handed down over the centuries. You would have an opportunity to meet villagers and interact with them through your guide although it may be possible that they might be meeting a tourist like you for the first time.
In winters from October to February you can watch migratory birds; night and pond herons, white necked and painted storks, coots or resident ducks among othersin attractive plumage. You may also go for a leisurely walk around the lake through the forests and enjoy the beauty of the place.
Late afternoon we visit ancient fortified ruins of the Old Fort. Besides fine panoramic view of the ancient town of Dungarpur, the fort has well preserved examples of natural color paintings and incredible art and architecture. Overnight stay.

DAY 10: DUNGARPUR – DASADA (245 KMS, 5 HOURS)

Morning leave for Dasada and after arrival check in at the hotel. Dasada is surrounded by chirping birds and the fragrance of a variety of flowers. Afternoon we go for village safari of the pastoral settlements and villages along the Rann of Kutch. We visit rural Vadiara and Kharapat Rabari tribes of Dasada. These are known for embroideries and silk–weaving skill. We also visit local villages of the Bharward shepherds and goatherds. The weaving cooperative at Bajana and other artisan workshops may also be included in the tour.
We will also have an opportunity to experience the traditional lifestyle and hospitality of natives. We can shop for embroidery directly from the Bharwad women and Rabari women of Dasada. Overnight stay.

DAY 11: DASADA

Morning we go for a desert safari across the Little Rann of Kutch, which is known for now rare Wild Ass which has been given protection in a dedicated sanctuary. The animal is not found elsewhere. They are usually found in small herds. Here the terrain is fascinating – especially the shallow bed of the sea which drains out in the dry months and gets flooded during the monsoon. The sea water comes from one side and the seasonal streams in monsoon flood bringing in fresh water on the other. This unique mix of salt and sweet water provides ideal conditions for the growth of crustaceans and other aquatic food for the flamingoes and other birds that breed in enormous numbers. You can also see Indian wolf, desert fox, Indian fox, jackals, desert and jungle cats. Overnight stay.

DAY 12: DASADA – MODHERA – PATAN – AHMEDABAD (260 KM, 5 HOURS )

Morning leave for Ahmedabad. Stop en route and visit Sun temple of Modhera, the excellent specimen of Hindu architecture and also visit Patan to see Patola weaving centre which is one of the largest step well of 11th Century. On arrival check in at the hotel. Overnight stay.

DAY 13: AHMEDABAD – DELHI / MUMBAI (BY FLIGHT)

Morning city tour of Ahmedabad. Visit Adalaj Step well, Calico Museum of Textile and Gandhi Ashram The energy of that movement can still be felt at this Satyagraha Ashram that Gandhi established on the banks of the Sabarmati in 1917. Later in the evening transfer to Ahmedabad airport to catch flight for onwards destination.