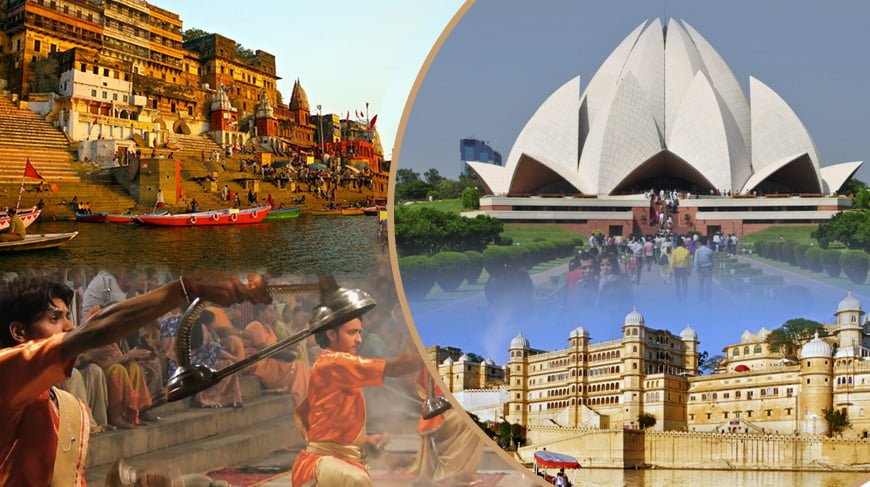 >
>
RAJASTHAN AND GANGES TOUR
RAJASTHAN AND GANGES TOUR
13 NIGHTS / 14 DAYS
DELHI – MANDAWA – BIKANER – JAISALMER – JODHPUR – RANAKPUR – UDAIPUR – JAIPUR – ABHANERI -FATEHPUR SIKRI – AGRA – VARANASI – DELHI
Ganges River is considered to be a sacred river in Hindu religion. Bathing in the river is considered auspicious and millions of people bath in the river everyday to clear themselves of their sins. This 13-day Rajasthan and Ganges package tour takes you to the most beautiful places in Rajasthan before ending at Varanasi – the holiest city in India where you you can participate in religious ceremonies and enjoy a boat ride across the Ganges river. This carefully crafted tour takes you to all places of cultural and historical significance in Rajasthan including Mandawa, Bikaner, Jaisalmer, Jodhpur, Udaipur and Jaipur. You shall also visit Taj Mahal, monument symbolic of love and one of the seven ancient wonders of the world in Agra.


DAY 01: DELHI

Arrival at Delhi airport. You will be welcomed at the IGI airport by our representative and transferred to your hotel in a private chauffeur driven car/coach. Quickly fulfill the formalities of arrival and check–in at the hotel (at 1200 hours) and start your exploration of India with a city tour of Old Delhi.Our first pitstop is Jama Masjid, built in 1650, it is one of the largest mosques in Asia. Enjoy rickshaw ride in the narrow lanes and alleys of the ancient bazaar of ChandniChowk. Visit the majestic Red Fort, a huge complex built of red sandstone, the capital of Mughal Empire in India for two centuries. Lets not call it a day yet as we continue our drive to Raj Ghat and pay homage to Mahatama Gandhi, the father of our nation. This completes the visit to Old Delhi and begins our tour of New Delhi. On your way to QutubMinar, you drive past the 16th century Humayun's Tomb. QutubMinar is one of the tallest towers of the 12th century built in Persian architecture style. Before returning to hotel we take a bus tour of the India Gate, Parliament Buildings and President House and finally returns to hotel for overnight stay.

DAY 02: DELHI – MANDAWA (270 KM, 6 HOURS)

We leave by car/coach in the morning to reach Mandawa, founded in 18th century, the town is dominated by medieval fort of Mandawa with a painted arched gateway adorned with painting of Lord Krishna and his cows. Arrival and check–in  at hotel. This place has been referred to as the "open art gallery" because it is not only Mandawa but the entire Shekhawati region which is full of fascinating mansions known as havelis in local language which have beautiful intricate frescos painted walls. Afternoon city tour of Shekhawati area to visit Chokhani, Podar ,Goenka , Ladia and Sarafhavelis which are few of the wonderful examples of this architectural marvel. Overnight stay.

DAY 03: MANDAWA – BIKANER (200 KM, 4 HOURS

We leave for the eloquent desert city of Bikaner in the morning. It dwells on the ancient caravan routes that originated from Africa and West Asia. The city was founded by Rao Bikaji and renowned for sculptured temples and wonderful palaces in red and yellow sand stones. Arrive Bikaner and check–in at hotel. Afternoon, we go for city tour of Bikaner by first visiting Junagadh Fort which was constructed in 1556 AD by Raja Rai Singh. The major attraction lies in its arcades, Darbar halls, royal rooms, and Jarokhas or screen windows. The fort is surrounded by almost one kilometre long wall which has 37 bastions. If time permits, you can also visit Camel breeding farm or Karni Mata Temple at Deshnok, the Temple of rats. Overnight stay.<

DAY 04: BIKANER – JAISALMER (330 KM, 6 HOURS)

After breakfast, we leave for Jaisalmer also known as Golden City. It was founded by Rawal Jaisal in 1156 and is truly unmatched and unlike other towns in Rajasthan. It was on famous ancient silk route and a trade center in those years. Even today, it retains medieval charm and its narrow streets, magnificent forts and havelis take you back in that period. After arrival check–in at the hotel. In the afternoon, we take you to BadaBagh to marvel at intricate carvings at Royal Cenotaphs or Chatris of royal family and then you will enjoy spectacular view of Sonargarh Fort and sunset over the sandunes at GadsisarLake.Return to hotel for overnight stay.

DAY 05: JAISALMER

After breakfast, we explore golden city and start with our visit to Jaisalmer Fort which is one of the oldest forts in Rajasthan. The fort is made of yellow sandstone and it is a massive structure in the desert town. The architecture of fort is an amalgamation of Rajput and Islamic style. This is undoubtedly a breath–taking sight to watch as it appears to rise from the arid sands of Thar. The fort is actually still alive with people still abiding within its walls.The fort complex consists of a palace and numerous beautiful Jain temples. Nearby is Patwonki Haveli, one of the largest havelis in Rajasthan. It is a group of five small havelis with beautiful intricate carvings on the windows. Even today, you can sense the old world charm and royalty of these havelis. We will also visit Nathmalki Haveli which gives visitors a glimpse of Marwari community lifestyle. The carvings on the walls are a visual treat to the eyes. Later in the afternoon, get ready for an excursion to the sand dunes, few kilometre away from Jaisalmer City. Enjoy the sun set across the horizons of never ending sand dunes on the back of a camel in the desert. It is now time to return to the hotel for overnight stay.

DAY 06: JAISALMER – JODHPUR (310 KM, 6 HOURS)

We leave for Jodhpur in the morning. Jodhpur is also known as gateway to Thardesert and the blue city as most of the houses in the old Jodhpur are painted in blue color. This crowded desert city flutters with beauty, warmth and romance. A visit to Jodhpur is a romantic journey into the past with forts, palaces, temples, culture, tradition, spices, fabric, color, and flourishing handicrafts. Arrive at Jodhpur and check–in at hotel. Afternoon, we go for city tour of Jodhpur. The city is also known as the blue city as most of the houses are painted in blue. We first visit Mehrangarh Fort which stands a hundred feet above a cliff and dominates skyline of Jodhpur. It is made of red sand stone and looks invincible and impressive. The Palaces within the fort are known for intricate carvings and courtyards. There is a good collection of musical instruments, royal costumes, royal palanquins, and cannons. We also visit JaswantThada which is beautifully set against the hilly background and glistening lake. Overnight stay.

DAY 07: JODHPUR – RANAKPUR – UDAIPUR (280 KM, 6 HOURS

In the morning, we shall leave for Udaipur and en–route stop to visit Ranakpur.The Jain temples at Ranakpur are dedicated to Adinath, the first tirthankara of Jains. The temples are very sacred and must visit for followers of Jain religion. But it is not only religious significance but the temples are also known for intricate carving on stone. The most interesting feature is that there are no less than 1400 pillars in the temple and none of the pillars is similar to each other as these are all carved in a different pattern. The domes of the temple are also richly decorated. Later proceed to Udaipur which is one of the best examples of royal grandeur and also known as Venice of the East. Udaipur city was capital in the Mewar region. It was built after the ruler of Chittorgarh retreated when almost invincible fort at Chittorgarh, former Capital of Marwar, was captured by the Mughal emperor Akbar. Arrive in Udaipur and check–in the hotel for overnight stay

DAY 08: UDAIPUR

We shall start our tour of Udaipur city in the morning with visit of City Palace which took three centuries to complete the construction incorporating brilliant ideas of architecture. The Palace is a big complex of joining buildings. The rooms feature typical Rajput architecture with decorated mirrors, glassware and magnificent frescoes. There is also a Museum which displays how Udaipur city was founded by Raja Uday Singh and later developed by other Maharajas in form of paintings. We shall next visit Jagdish temple which is adjacent to City and a steep staircase takes us there. The entrance of the temple is greeted by two elephants. The stone art work and intricate carving on the walls is remarkable. We shall now drive to Saheliyon Ki Bari Gardens which is the most beautiful garden in the city. It was built for princess and her forty eight maids who has come to Udaipur along with her as part of her dowry. The wonderful lay out of the garden is a treat to your eyes.In the afternoon we shall go for an excursion to Eklingi and Nagda. Eklingji is a very famous and sacred Hindu Temple. It was constructed in 9th century by Guhila dynasty of Mewar. The final visit of the day is Nagda, which was founded by Nagaditya, the fourth Mewar King, in the 6th century. Nagda is famous for 10th century Sas–Bahu Temple to hotel for overnight stay.

DAY 09: UDAIPUR – JAIPUR (450 KM, 8 HOURS)

After breakfast, get ready for a long drive to Jaipur. The historic city and gateway to the most popular tourist destination, Jaipur is the capital city of Rajasthan. An intricate chaotic and colorful street of Jaipur flows with old and new traditions. Jaipur is also known as Pink City as it is said that all building the city were painted in pink to welcome Prince of Wales and since then it has been called pink city. Jaipur is rich in history with its wonderful forts and palaces. Arrival and check–in at hotel. You may spend some time in old bazaars of Jaipur city which are located in the walled city. Jaipur is truly a shopper's paradise and offers great variety of handicrafts, antiquities, carpets, textile, exotic blue pottery and precious & semi–precious stones for which Jaipur is famous all over the world. Overnight stay

DAY 10: JAIPUR

In the morning, we go for excursion to Amer Fort which is perched on a hill. The architecture of the fort is a unique blend of Rajput and Hindu style. Amer is the former citadel of Kachwahas of Amer who had ruled the city. It is a thrilling climb to the fort as its done sitting on an elephant's back. The Fort is known for cobblestoned pathways with enormous fortification. There are beautiful buildings inside the fort including Sheesh Mahal (palace of glass), Jai Mandir and SukhNiwas. The afternoon has been kept free for you to explore the pink city bazaar for shopping or just to take a leisurely walk. Overnight stay.

DAY 11: JAIPUR – ABHANERI – FATEHPUR SIKRI – AGRA (265 KM, 6 HOURS)

After breakfast, get ready to depart for Agra, home to Taj Mahal. But, before reaching Agra, we shall stop at Abhaneri village where you will visit Chand Baori , an ancient hidden stepwell. The step well sare unique in this part of the world and were used for storage of water by rainwater harvesting. They also served as pools for ritual cleansing before entering a temple. Our next stop is FatehpurSikri, the best preserved Mughal Palace city in India which was built by Akbar in 16th century. He used the best craftsmen in the country to build the city but unfortunately had to abandon it afew years later after the water system failed. After exploring the fort, proceed to Agra and check–in at the hotel for overnight stay

DAY 12: AGRA – VARANASI

In the morning, we begin exploring the city of Agra, first visiting one of the Ancient Seven Wonders of the World, "Taj Mahal." It is a mausoleum built by Shah Jahan for his beloved Mumtaz Mahal. It took no less than 22 years to build this architectural wonder and was finally completed in the year 1653. The interiors of Taj Mahal are adorned with highest quality inlay work incorporating semi–precious stones. Taj Mahal is undoubtedly a treat to your eyes and spectacle to watch. Then visit Agra Fort which had been the seat of power of the Mughal dynasty for many centuries. The huge awe–inspiring facades of the fort are a symbol of strength, power and resilience of the might empire. The view of Taj Mahal from the fort is also unforgettable. Later we continue our Agra tour and visit Sikandra, the tomb of great Akbar. It is interesting to note that the emperor himself chose the site of his tomb and started the construction although it was later completed by his son, Jahangir. This is made of red sandstone with fine inlay work of marble. In the evening transfer to Agra station to catch overnight train for Varanasi. Overnight stay on–board.

DAY 13: VARANASI

Arrival at Varanasi railway station and transfer to hotel (check–in time 1200 hours). Varanasi is also known as Kashi is the oldest living city in the world and one of most sacred places for Hindus who believe that if one takes his last breath in Varanasi, he becomes free of vicious cycle of life and death and attains moksha. After some rest in the hotel, we visit Sarnath. The place is very famous because Buddha delivered his first sermon here after attaining enlightenment. It is one of the holiest places for Buddhists who come from all parts of the world. Later in the afternoon we go to witness Ganga Aarti at Dashasumedh ghat which is performed daily by a group of priests there. It is a unique and unforgettable experience as the ceremony will enchant you with spiritual thoughts and positivity. Return to hotel for overnight stay.

DAY 14: VARANASI – DELHI (BY FLGIHT)

Early in the morning, we go for a boat tour on the holy Ganges. This is an experience for which so many visitors from all over the world come to Varanasi. Sailing on the holy waters of Ganga, you will witness thousands of pilgrims worshipping and having a bath in the holy water.Return to hotel for breakfast and later leave for Varanasi airport to catch flight for Delhi. We shall provide you a car/van with driver at Delhi airport for visiting Delhi on your own or last minute shopping before returning to Delhi airport again to catch your flight back home.