GENERAL INFORMATION
| | | |
| --- | --- | --- |
| Area | | 38.10 Sq km. |
| Altitude | | 237 Meters |
| Climate | Max | Min |
| Summer | 44°c | 32°c |
| winter | 28°c | 14°c |
| Rainfall | | 31 cm |
| Clothing | Summer | Winter |
| | Light tropical | Light Woollen |
| Best season | | October-March |
| Languages | | Engli, Hindi, Rajasthani |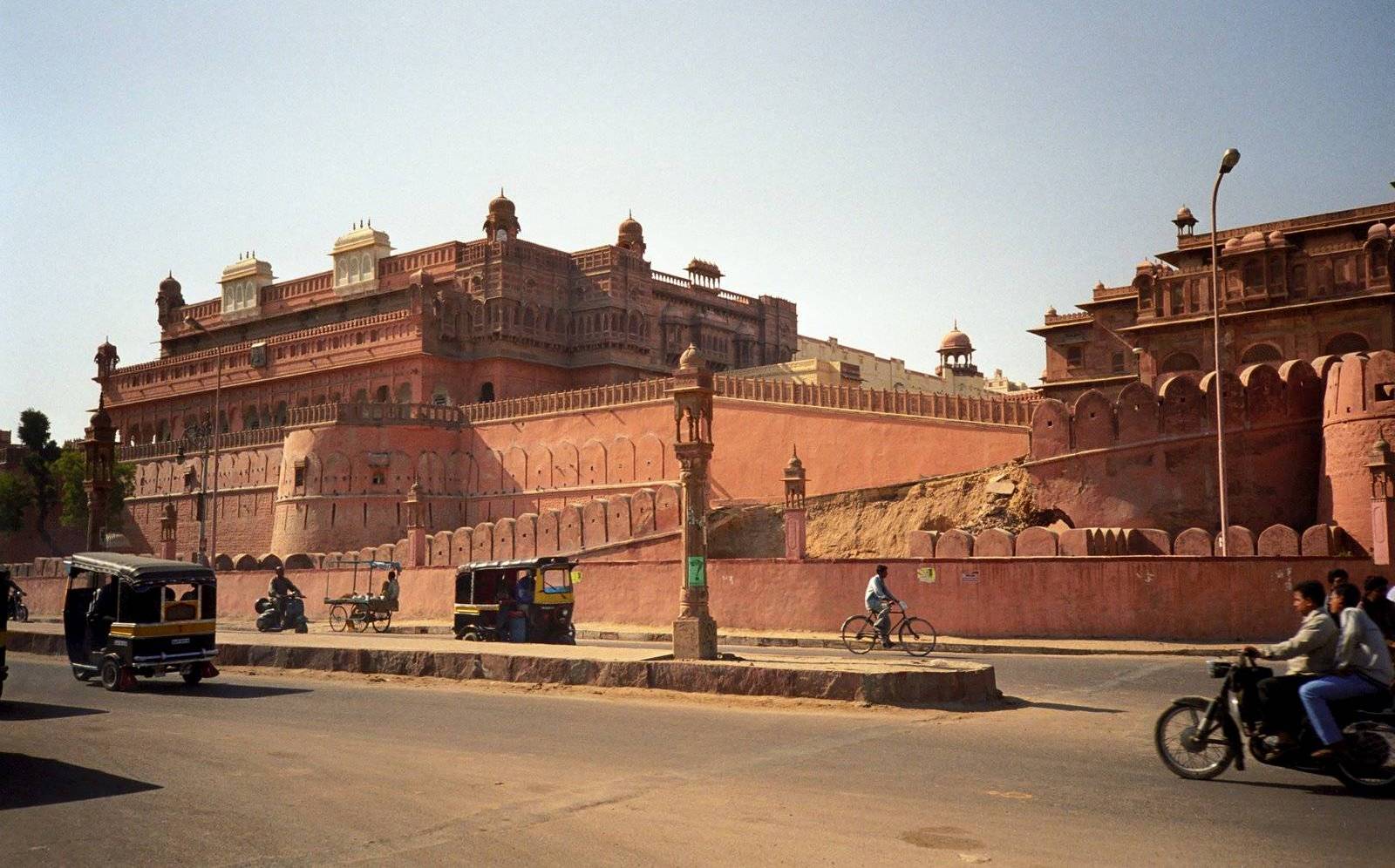 Do not miss Bikaner, if you thrill to the inexorable forces of nature. This is as close to the desert life as you can get. Unlike anything you've seen on picture postcards; Bikaner possesses the beauty of mystery, calm and splendid sand dunes. The Thar Desert has hard rocky soil. Bikaner is devoid of cactus. However, there are plenty of scrubs around. The earth is bustling with brazen insects and striking birds and gorse thorn milkweed sprout precariously.
Bikaner is the land of camels, the city runs on this mighty animal's back, they pull heavy carts, work on the wells, transport grain etc. Wells are more important than one would believe, almost sacred, primarily because water lies approximately 122 metres below the surface. These wells are built on high plinths, and the slender minaret towers on each of the four corners proclaim their existence from afar, like a roar of welcome, a majestic sight at that. In the year 1459, Rao Jodha Rathore of Marwar retrieved the fortunes of his clan and founded the royal city of Jodhpur. Amongst his five sons Bikaji was the most lively and enterprising, he later established the magnificent city of Bikaner. Bikaner dwells directly in the ancient world, and this gave rise to a curious phenomenon, hence attracting major tourists. Bikaner, the fortified city, is encircled by imposing battlements and stands on a slight eminence. It is the fourth largest city of Rajasthan. Its roads ripple through vivid bazaars, and the prevailing hue of the buildings is in the strong reddish pink of local sandstone, mixed with the orange glow of the setting sun, Bikaner redefines Wordsworth's thing of beauty.
TOURIST PLACES
JUNAGARH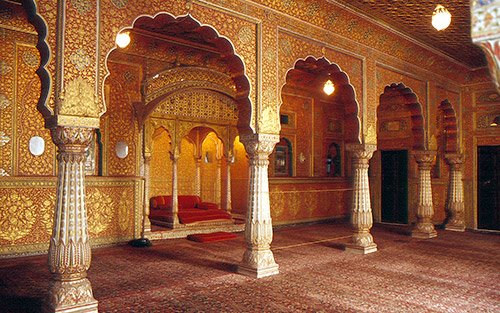 An outstanding General of Mughal Emperor, Akbar, Raja Rai Singh (1571-1611) built this imposing fort of Junagarh. It contains multitudes of palaces made of red sandstone and marble with kiosks and balconies, embellishing the structure at various intervals. They have impressive carvings, paintings and mirror work.
Suraj pol or the Sun gate is the main entrance to the fort. There is a majestic chapel by the name of Har mandir where all the royal weddings and births were celebrated. The palaces worth visiting are Karan Mahal, Anup Mahal, Ganga Niwas, Dungar Niwas, and Rang Mahal. The most beautiful places among these are Phool Mahal or the flower palace which is elaborately decorated with carvings and mirror-work; and Chandra Mahal or the Moon Palace which has enormous and exquisite paintings on lime plaster walls. These palaces were constructed by Maharaja Gaj Singh (1746-87). The places within, are adorned with graceful screens, gigantic columns and arches. The facade of the monuments visible from above the high powerful walls, provide a celebrated view of pavilions projecting a row of balconies, kiosks, and mounts at intervals from a distance.
LAL GARH PALACE
Maharaja Ganga Singh built this palace to commemorate his father, Maharaj Lal Singh. It is a spellbinding piece of intricate carving in magnificent red sandstone and is marked brilliantly by the intricate filigree work. There is also a magnificent collection of archaic trophies and photographs of wildlife, well preserved and exhibited in the banquet hall. Nature too has inevitably enhanced the beauty of this monument manifold. The sprawling lawns are often graced by dancing peacocks and blooming bougainvillea. Part of the palace has been renovated to serve as a grand hotel, and the remaining is open for visitors.
DESHNOKE KARNI MATA TEMPLE
Situated en route to Jodhpur, this temple is dedicated to Karni Mata -an incarnation of Durga. It is Marked by fascinating marble carvings and humongous silver gates that were donated by Maharaja Ganga Singh Ji. The most renowned and attractive trait of this temple are the rodents who scamper freely within the premises and if one touches a devotee's feet, it's considered auspicious. They are regarded sacred, and various devotees buy Prasad (feeding) and offer it to them.
CAMEL-BREEDING FARM
Camel constitutes the most vital species of the desert ecosystem. They utilize various adaptive mechanisms that are most suited to desert life. They can survive in extremely hot climate with high solar radiation and sustain on salty and thorny bushes  as well as coarse fodder. The Indian Council of Agriculture Research (ICAR), considering the importance of this species in the development of arid and semi-arid zones, has established National Research Center on Camel (NRCC) at Jorbeer, Bikaner (8 km).
Bikaner is the home to the Bikaneri camel breed that is a true representative of Indian single-humped camels (Camelus dromedarius). This government-managed farm that came into existence on 5th July 1984 is unique and largest in Asia. It houses hundreds of camels and in the late afternoon when camels come back from grazing, the scenario is unparalleled. You can also have some thick camel milk while you actively listen to a camel breeder's tribe- Raika or Rebari, telling you about camels and camellore and how they are bred. The gambolling baby-camels make a very enchanting sight.
HOW TO GET THERE
By Air- The nearest airport is Jodhpur 243 km.
By Rail- Bikaner is connected with Delhi, Jaipur, Jodhpur, Udaipur and almost all the major cities of India.
By Road- Bikaner is connected by road with the major cities of India. Some important distances are
| | | | | | |
| --- | --- | --- | --- | --- | --- |
| DISTANCE | Delhi | Jaipur | Jaiselmer | Jodhpur | Mandawa |
| BIKANER | 488 km | 330 km | 335 km | 260 km | 241 km |